After years of home ownership and being a landlord, I have a had more than my share of do-it-yourself jobs. Along the way I have collected – well – lets just say a garage full of tools. Some, I use often – drills, hammer, tape measure etc. Others, not so much. If you're like me, a DIY kind of guy, but only have the weekends to do things, here are 3 tools that will make your life easier, save tons of time and help get those projects completed before Monday consumes you.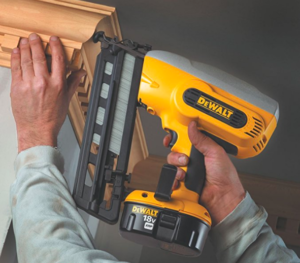 A cordless nail gun has to be on the top of your list. I've had an air compressor, air hose and all the little accessories that manage to get lost. This 18V battery power Dewalt Finish Nailer that ranges from 1-1/4 in to 2 – 1/2 in finish nails recently replaced all of that and saves tons of time and energy. We've built closets, added some crown molding and even build a wall in the basement. Yeah, at $500, it's a bit of an investment but the value you get from features like interchanging the battery with your other drills and power tools or turning a two-man job into one make this price easier to handle.  Plus, not having to drag that compressor and hose up 2 flights of stairs only makes it that much better.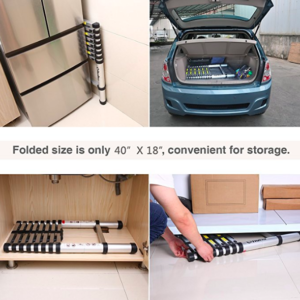 I have officially replaced 4 of my 5 ladders with this one compact piece of equipment. No more having to find a place to store all the different ladders. No more having to mess with ladders of different heights. The Ohuhu 12.5ft Telescopic ladder works in just about everywhere except getting on the roof. It's light weight and easy to use. Even fully extended I felt comfortable getting up on Laura's outdoor shed to repair the roof. The compact-ability of this ladder makes storing it easy and transporting it even easier. Definitely a must have.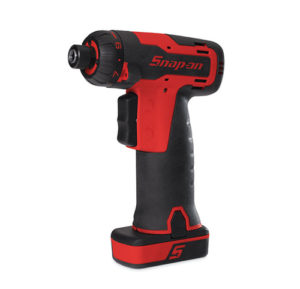 I don't know what I would do without my baby driver! My family got this for me as a Christmas gift and I've never needed anything else.  Albeit a small tool, it packs a punch and keeps on going and going and going. It took me a full 4 months before I even had to think about recharging this guy. It's so convenient, you can hide it in a junk drawer. Putting up mirrors, tightening hinges and even hanging a moose head towel rack in the bathroom, if you need to get into a small space that the 18V DeWalt cant fit into, this baby is ready and waiting.
---
These three are definitely our top-ranking favorites as we set up shop in the new house. Which must-have tools are you using most?