The part of my job I love most is getting to meet so many wonderful people. Strangers, who turn into clients, often turn into friends. Anytime I get a chance to brag about one of my friends, naturally, I'm going to do it. My dear friend and Barber Lavyne Anderson decided to go out on her own and open up her own Barber Shop called The Barberette in the River Market. So I sat down with her and we talked about her new venture, haircuts, style, and of course Kansas City. Listen in and see why you should ditch your current Barber and give her a try!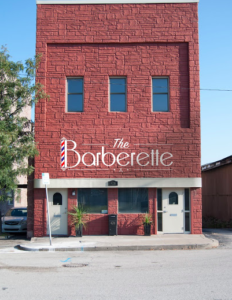 Aaron: Lavyne, thanks for doing this with me. First, congrats on your successful opening of The Barberette. I feel like all your clients were right there with you during the building of The Barberette with updates every time we come in. Starting a business is no easy task, what made you decide to take on the challenges and become a business owner?
Lavyne: You either have a job or a career. I have a career/hobby. Enjoying what you do makes the decision of becoming a business owner easy.
Aaron: I couldn't agree more. One of the toughest decisions is what and how your shop will look, how would you describe the style of your barbershop?
Lavyne: Being in the location of the River Market, I wanted something that was on the industrial/vintage side rather than your traditional barbershop. There is a lot of character with the old brick and wood look, which is all original, so I went along with the look of the building.
Aaron: Yes you really get a vintage feel with a touch of class for sure. For all the young entrepreneurs out there thinking about starting their own business, what's the best piece of advice you could give them?
Lavyne: Patience. Period.
Aaron: Haha that's something every business owner will tell you is a constant work in process. You came from a diverse background when it comes to cutting hair. What made you decide on the Barber Shop vs a Salon?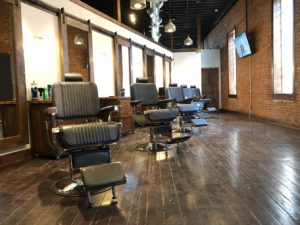 Lavyne: Everyone has to start somewhere and barbering wasn't where I started. I was in salons for the first part of my career, but have always had a larger male client base. When I moved to Kansas City, I then decided that was what I was meant to do. Therefore, I went back to Barbering school to be able to take it to the next level and strictly focus on fades and shaves.
Aaron: Other than cutting hair, do you offer any other services?
Lavyne: Absolutely. Being a barber, I can provide haircuts, shaves, color, and waxing (as I have a crossover license with cosmetology). Parents bring in their kids all the time too. We will also provide massage therapy.
Aaron: That's great to hear. I've been thinking about shaving my beard for the summer. Speaking of that. What's your favorite style of haircut? Beard or no Beard?
Lavyne: I've always been a fan of the clean-cut look. Short on the sides with some style on the top. As far as beards go, guys you gotta keep that stuff looking nice. No woman likes a nappy looking beard.
Aaron: You hear that guys? Scruff is good as long as it's cleaned up. You've been advised. You've been working day and night for the past couple of months. With The Barberette officially open for business, can you describe to us how you felt to finally open the doors for the first time?
Lavyne: Exciting! Nervous. Happy! Scared. All the above! It's been a long journey to get to this point, but I couldn't be happier with how it all turned out.
Aaron: Derek said it was good time. I heard there were cozies, raffles, families, and prizes. You know how to throw a party for sure! They say location is everything, why did you choose the River Market area to open shop?
Lavyne: Location IS everything. I wanted to be more centrally located so it was easy to get to. Now with all the apartments and condos going in and with all the businesses in the area and downtown, I think it will be a suitable addition to the area.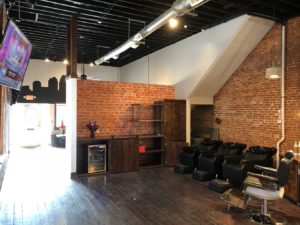 Aaron: Yes Ma'am it is. Last and toughest question of the day, what do you love most about Kansas City and name your go to place in KC to eat?
Lavyne: Being from a farm town in Nebraska, Kansas City is diverse. It opened up my eyes to a lot more opportunities in life. There are a lot of small businesses in town, so be sure to support them because that is what keeps this city interesting. Do your research. KC eats: Goodness. There are too many… Succotash for breakfast, District Pour House for brunch (which are my favorite meals.) I'm a foodie so if you ever need a recommendation, I'm sure I have a suggestion.
With all this being said, never give up. Life throws you down different paths you never thought you would go down. Patience and taking one day at a time will put you where you need/want to be.
Aaron: Lavyne, thank you for taking the time to talk with me. I wish you much success in business and life. You are truly a good human.
---
There you have it! A one on one conversation with, in my opinion along with many others, the best barber in KC. If you would like to know more about Lavyne and The Barberette click on the link below and schedule your first of many haircuts with Lavyne and her crew.