Moving into a new area can be an exciting and scary time. The people and places are new and unfamiliar. Where do you go to meet people, get moving or just spend some good quality family time with the kids and Fido? The dog park. Years ago, before air conditioning and modern transportation, we knew our neighbors well and spent long summer nights conversing on the front porch. In today's fast-paced world, we're lucky to get a wave hello. Kansas City dog parks are becoming the new meeting ground for people looking to get exercise, meet new people and just hang out – with man's best friend. Check out some of Kansas City's best dog parks below then load up the car for some fun in the sun!
Waggin Trails – 432 E 32nd Ave, North Kansas City, MO 64116

One of Kansas City's newest dog parks, Waggin Trails offers amenities galore for you and your pooch! Areas for large dogs include over 2.5 acres of off lease area, a walking trail, agility course, 3 tunnel runs and of course water fountains. Smaller dogs have an area of almost an acre to run and play to their hearts content. Located in North Kansas City, it's centrally located for northlanders and those living in downtown Kansas City, MO.
Platte Landing Dog Park – 300 S Main St, Parkville, MO 64152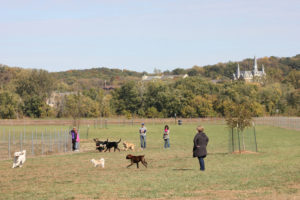 Another new addition to the Northland is Platte Landing Dog Park. Located along the Missouri River, the park is lacking many of the "extras" seen at Waggin' Tails. However, the picturesque view and proximity to downtown Parkville make this park a winner. Seven acres of fenced in land for your four-legged friend to roam and play. Like most local dog parks, there is a separate area for large and small dogs and it's adjacent to English Landing park, a Boat Ramp and a walking trail. There is something for everyone here!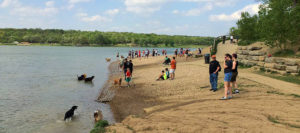 Shawnee Mission Dog Park is the gold standard of Dog Parks in the Kansas City Metro Area. It's 53 acres of fenced area that includes many types of terrain. From flat open spaces when you first enter, to wooded trails for hiking with your pooch on down to a doggy swim beach and lake, you can't go wrong with this massive area dedicated to man's best friend. While the area is lacking the equipment of Waggin Tails, it excels at offering hours of outdoor fun for all members of your family. The park is closed every Tuesday and Thursday morning from 5 am to 9 am for extended maintenance in order to ensure the safety of you and your pet.
Swope Park Dog Park – 5051-, 5699 E Gregory Blvd, Kansas City, MO 64132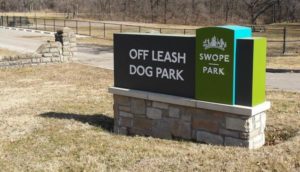 Located on 5 acres in what is referred to as the "Crown Jewel" of Kansas City parks, the Swope park off leash dog park is a little bit of wilderness in the middle of an urban expanse. Surrounded by a forest of trees, this fenced in is area is a haven for dog lovers. With picnic benches, wide open spaces and water fountains, it's a great retreat from the daily grind of urban life. 
Bar K – TBD Berkley River Front
Coming Soon to the Berkley River Front is Kansas City's first unique indoor/outdoor dog park! Unlike other dog parks in this blog, Bar K is not a free city service. However, the amenities provided will exceed those of any public dog park. Not only will upscale food, drink and shelter be available for patrons, Bar K plans to have it's own trained staff on site at all times. Add to that, recreational equipment and dog washing stations in an area over-looking the Missouri River and the Heart of America Bridge, you've got yourself a great place visit and play for hours any time of year!
No matter where you live in the Kansas City area, dog parks have always been an integral part of daily life. When you feel the need to get out, meet new people and get moving, there is no place like them. Get out there and discover your area dog park or try a new one in a different part of the city. Chances are, you'll meet new friends and neighbors while making memories to last a lifetime!
Although I only listed a few of my favorite places to take my dogs, there are many great parks to explore.  For a full list of dog parks in your area click on Kansas City Missouri or Kansas.