When someone comes to your house, your front door is the first thing they see.
Be it the UPS man dropping off a package or a neighbor borrowing some sugar (does this still happen???… I sure hope so!), your front door makes an impression. So what impression does the color of your door give to the world?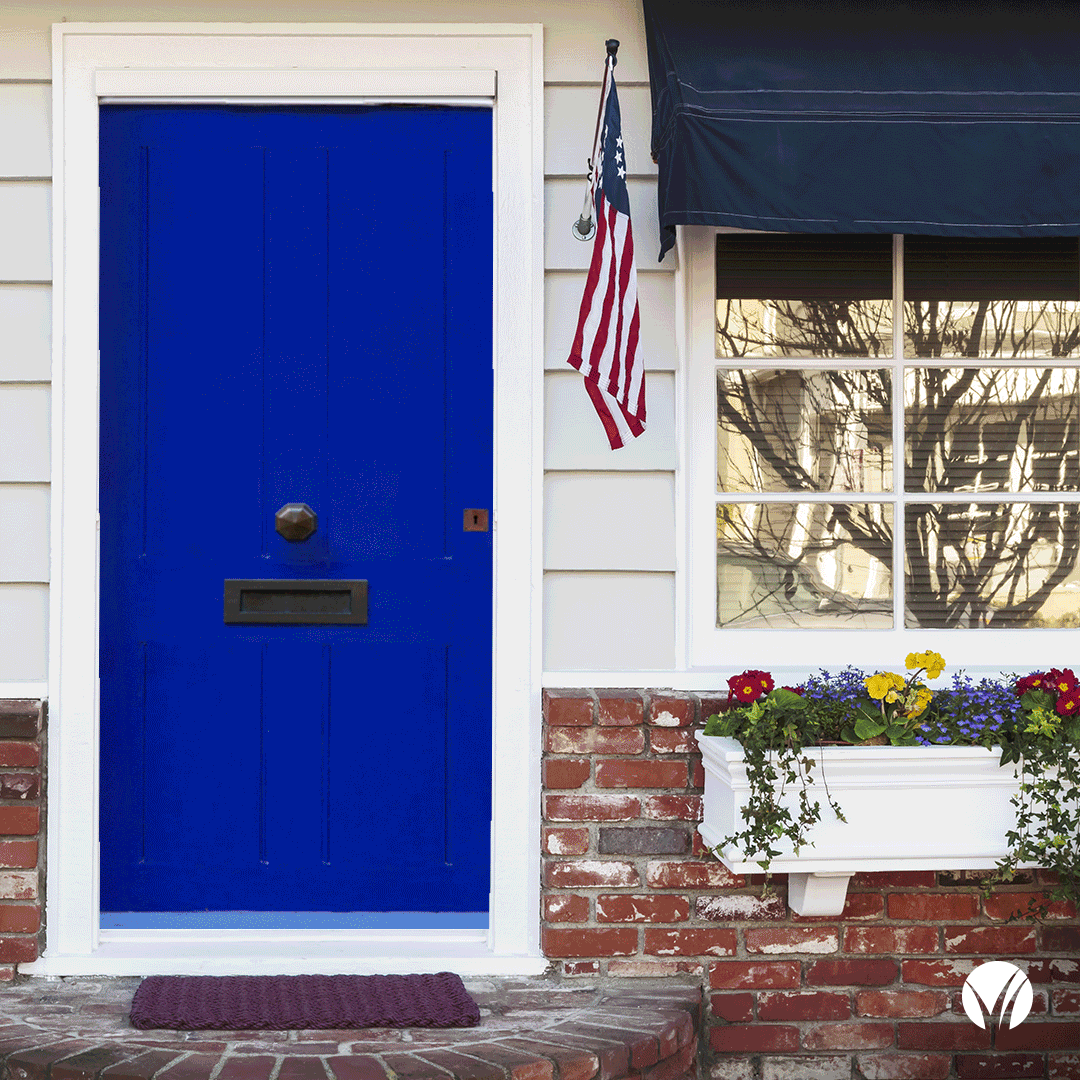 RED/ORANGE
You are a welcoming host  and put out a beacon of "WELCOME ALL!" You are a social butterfly and guests shouldn't be shy about ringing your doorbell. It's a safe bet that you have other pops of color throughout your home that you like to entertain in.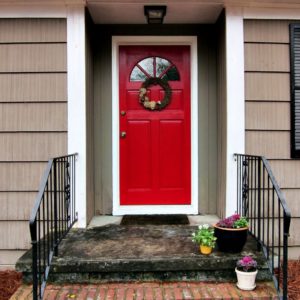 PINK/PURPLE
Pink can be a whimsical statement,  one that is full of cheer and thoughtfulness. Purple can be a dramatic flair for those free-spirited types who are not burdened by the norms of society.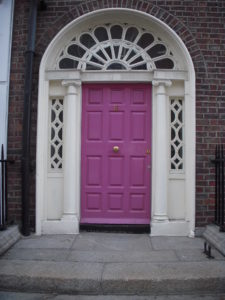 BLUE/GREEN
Blue indicates someone who values truth and peace while green references traditional values being of major importance past the threshold.  Someone financially driven may also interpret green as the color of money.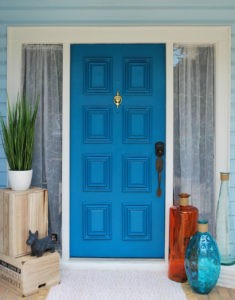 WOOD/BROWN
Wood is a warm material which evokes warm feelings as well. A wooden door, or one painted brown, draws a passerby in with a comfortable, familiar sensation. Drawing colors from nature is a great way to ascertain that down-to-earth persona.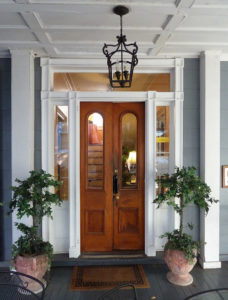 BLACK/WHITE
The basics. White is simple yet elegant. It is so clean and pure which indicates a need for organization and balance.  A stark black door also signals a world of control and order.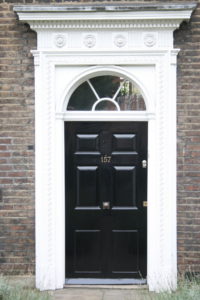 You never knew so much could be said about you just based on your front door, did you? When deciding on what color to paint your front door, choose wisely. Your front door is making a statement, make sure it's the statement you want to make.
[fusion_separator style_type="single solid" hide_on_mobile="small-visibility,medium-visibility,large-visibility" class="" id="" sep_color="" top_margin="25″ bottom_margin="50″ border_size="" icon="" icon_circle="" icon_circle_color="" width="" alignment="center"][/fusion_separator]
Ever thought about moving to Gladstone?
Find out more about this grown neighborhood in Kansas City!
[fusion_button link="https://buyselllivekc.com/gladstone/" title="" target="_self" alignment="" modal="" hide_on_mobile="small-visibility,medium-visibility,large-visibility" class="" id="" color="custom" button_gradient_top_color="#596CA6″ button_gradient_bottom_color="#596CA6″ button_gradient_top_color_hover="rgba(110,61,160,0.79)" button_gradient_bottom_color_hover="rgba(110,61,160,0.79)" accent_color="" accent_hover_color="" type="" bevel_color="" border_width="" size="large" stretch="default" shape="" icon="" icon_position="left" icon_divider="no" animation_type="" animation_direction="left" animation_speed="0.3″ animation_offset=""]Gladstone, MO[/fusion_button] [fusion_separator style_type="single solid" hide_on_mobile="small-visibility,medium-visibility,large-visibility" class="" id="" sep_color="" top_margin="25″ bottom_margin="50″ border_size="" icon="" icon_circle="" icon_circle_color="" width="" alignment="center"][/fusion_separator] [fusion_builder_column spacing="" center_content="no" hover_type="none" link="" min_height="" hide_on_mobile="small-visibility,medium-visibility,large-visibility" class="" id="" background_color="" background_image="" background_position="left top" background_repeat="no-repeat" border_size="0″ border_color="" border_style="solid" border_position="all" padding="" animation_type="" animation_direction="left" animation_speed="0.3″ animation_offset="" type="1_2″]
Follow us on Instagram [fusion_fontawesome icon="fa-instagram" size="15px" flip="" rotate="" spin="no" alignment="" hide_on_mobile="small-visibility,medium-visibility,large-visibility" class="" id="" circle="yes" iconcolor="" circlecolor="" circlebordercolor="" animation_type="" animation_direction="down" animation_speed="0.1″ animation_offset=""][/fusion_fontawesome]
[/fusion_builder_column] [fusion_builder_column spacing="" center_content="no" hover_type="none" link="" min_height="" hide_on_mobile="small-visibility,medium-visibility,large-visibility" class="" id="" background_color="" background_image="" background_position="left top" background_repeat="no-repeat" border_size="0″ border_color="" border_style="solid" border_position="all" padding="" animation_type="" animation_direction="left" animation_speed="0.3″ animation_offset="" type="1_2″]
Follow us on Facebook [fusion_fontawesome icon="fa-facebook" size="15px" flip="" rotate="" spin="no" alignment="" hide_on_mobile="small-visibility,medium-visibility,large-visibility" class="" id="" circle="yes" iconcolor="" circlecolor="" circlebordercolor="" animation_type="" animation_direction="down" animation_speed="0.1″ animation_offset=""][/fusion_fontawesome]
[/fusion_builder_column]